GODIVA Chocolatier Honors Breast Cancer Awareness Month with 50K Donation & Limited Edition "GODIVA GIVES" Chocolate Collection
GODIVA Gives Back to Women and Donates $50,000 to the Breast Cancer Research Foundation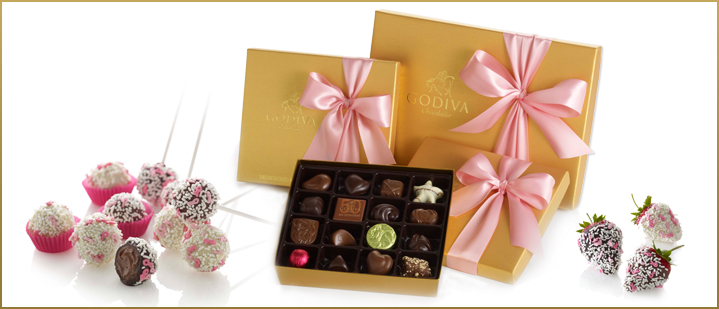 NEW YORK, NY (October, 2012) -Today, GODIVA Chocolatier announced that through their Lady GODIVA Program and new GODIVA GIVES initiative, the company is making a donation of $50,000 to The Breast Cancer Research Foundation, a prominent breast cancer charity. As a company that is committed to giving, GODIVA strives to honor women and the causes they support, and this donation furthers this sentiment. To celebrate this initiative, GODIVA is featuring a limited edition collection of pink-inspired GODIVA GIVES chocolate products for consumers to purchase and show their support.
The interactive charitable program will launch on GODIVA's Facebook page on Friday, October 5, where chocolate fans and survivors are encouraged to share their stories of inspiring women and how they have made a difference for breast cancer awareness. Chocolate fans can share their stories and support the campaign on Facebook.com/GODIVA
Pink is the color of caring, and this season the legendary chocolatier is debuting three limited edition GODIVA GIVES products to support breast cancer awareness month. The GODIVA GIVES products include:
• GODIVA GIVES Gold Ballotin – The classic GODIVA collection features a signature assortment of exquisitely rich, velvety Belgium chocolate. Tied with a pink bow, these fascinating flavors and intriguing textures include the most classic deliciousness in milk, dark, and white ganaches, pralinés, caramels, fruits, and nuts. Price: Ranges from $8-$165 at GODIVA boutiques nationwide. GODIVA GIVES 19pc and 36pc Gold Ballotin available online ($30/$50), all other sizes available at GODIVA boutiques nationwide.
• GODIVA GIVES Chocolate Dipped Strawberries – The juicy strawberries, picked at the peak of ripeness are hand dipped in GODIVA Belgian white, milk or dark chocolate and decorated with sprinkles and pink ribbon sprinkles. Treat yourself to one as you shop, or have six strawberries wrapped in a gold box as a gift. Price: $42 for a box of 6 at GODIVA boutiques nationwide.
• GODIVA GIVES Truffles & Truffle Pops – The whimsical and delicious GODIVA GIVES truffles and truffle pops are offered in milk, dark and white chocolate and are decorated with pink and white ribbon sprinkles and regular sprinkles. Price: $2.50 for truffle and $3.00 for pop at GODIVA boutiques nationwide.
"GODIVA is committed to honoring woman and giving back to the causes that matter most to them and this October, we are proud to be supporting The Breast Cancer Awareness Foundation" says Jeri Finard, President,North America, GODIVA Chocolatier. "The new GODIVA GIVES program is an extension of the Lady GODIVA Program and we are excited to launch a new collection of indulgent chocolates that both honors and promotes breast cancer awareness."
The limited edition GODIVA GIVES collection is available online and at GODIVA boutiques nationwide. For more information, visit www.GODIVA.com.
About The Lady GODIVA Program
This year, Godiva Chocolatier announced a new global, corporate philanthropy initiative, the "Lady Godiva Program" which celebrates inspirational women around the world who embody the attributes of Lady Godiva through selflessness, generosity, leadership and the spirit of giving-back to the community. The GODIVA GIVES initiative and the $50,000 donation to the Breast Cancer Research Foundation is part of company's' commitment to honoring women and the causes that matter most to them.
The national program was launched in May with the announcement of the Lady Godiva Program's first national honoree – FEED Projects LLC CEO, Lauren Bush Lauren. Through the collaboration, Godiva sold custom "FEED 10" tote bags, which provided 10 school meals to children (per bag sold) in the African cocoa sourcing countries. GODIVA will be launching another FEED partnership this holiday season, and through this effort, hopes to donate over 300,000 meals to children in 2012.
To coincide with the national program, GODIVA launched the "Local Lady GODIVA Program," in April, which recognizes and awards women in local communities who make a difference. Each season, GODIVA fans can nominate a Local Lady GODIVA and through online public voting, three regional finalists are chosen each season and receive a $1,000 grant to help support their cause. At the end of the year, one Annual Local Lady GODIVA Honoree will be chosen from the nine regional Honorees and will receive a $10,000 grant to support her work. To nominate or vote for a Local Lady GODIVA, click here.
When the GODIVA brand was founded, the company sought a name that embodied the timeless qualities of passion, style and modern boldness, and found it in the legend of Lady GODIVA. Now, as the company looks to the future with the creation of the Lady GODIVA Program, it was only natural to once again draw inspiration from the story of one woman's act of generosity. With the creation of the Lady GODIVA Program, GODIVA is able to help support the causes that matter to women, both globally and locally, and inspire others to give back as well.
About GODIVA Chocolatier
Godiva was founded 85 years ago in Brussels, Belgium and since then, has grown to become the global leader in premium chocolates. GODIVA is one of the most widely recognized chocolate brands in the world, and one that consumers universally associate with prestige, elegance and quality. From its famous truffles and shell molded chocolate pieces to its European-style biscuits, gourmet coffees, and hot cocoa, GODIVA Chocolatier is dedicated to excellence and innovation in the Belgian tradition. Most recently, Godiva has expanded into baked goods and desserts, delighting customers with innovative products such as brownies, cakes and chocolate dipped items, defining itself as the destination for chocolate. www.GODIVA.com.
###
PRESS CONTACTS:
ALISON BROD PUBLIC RELATIONS, 212-230-1800
Jessica@alisonbrodpr.com / Joanna@alisonbrodpr.com / Taylor@alisonbrodpr.com