The GODIVA Name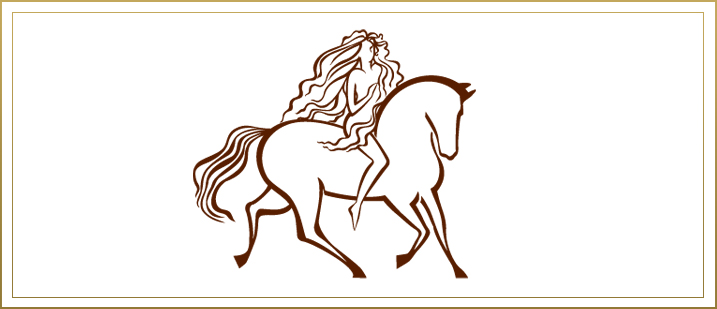 The famous story of Lady Godiva is the inspiration behind the Godiva Chocolatier name.
In the 11th century, Lady Godiva and her husband Lord Leofric lived in Coventry, England. Lord Leofric was a powerful ruler who was unsympathetic to the citizens of his kingdom. Lady Godiva, however, was a woman of great generosity who had dedicated her life to the impoverished and stricken.
When Lord Leofric imposed a heavy burden of taxation upon his subjects, Lady Godiva protested. In response, Lord Leofric set forth this challenge: If his wife rode naked through the streets, the taxation would be lifted. Lady Godiva was a modest woman, but she immediately agreed to this challenge to help her fellow townspeople.
The Defining Moment
On the morning of the event, dawn rose, the bells chimed, and Lady Godiva began her ride wrapped in nothing but her lustrous long hair. The generosity of Lady Godiva led to more generosity on the part of the townspeople. The people agreed to all close their shutters to preserve Lady Godiva's modesty. Throughout the streets, the sounds of hooves echoed, but not a single glance fell upon Lady Godiva.
Upon her finish, thunderous cheers erupted throughout the town. Lady Godiva's bravery and risk had won over the hearts of all who knew her. As promised, Lord Leofric eased his taxation of the poor and Lady Godiva's place in history was immortalized.
A Lasting Legacy
Centuries later in 1926, Godiva founder and master chocolatier Joseph Draps created a new line of Belgian chocolates with extraordinary richness, premium quality, and iconic style. He sought a name for his company that embodied timeless values balanced with modern boldness – much like our lady of legend. The choice became clear to Draps: He named his company GODIVA.
The Lady GODIVA Program
More than eight decades later, Lady Godiva's story continues to inspire us. Our Lady Godiva Program supports extraordinary women, both nationally and locally, who embody the spirit of Lady Godiva through attributes of selflessness, generosity and leadership.