GODIVA, Everywhere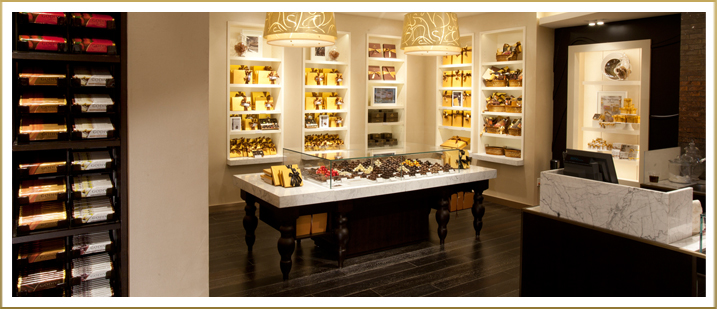 In 1926 when our founder Joseph Draps opened his first GODIVA Chocolatier shop in Brussels, Belgium, Godiva became the chocolatier of choice in Belgium and the talk of the chocolate world.
After years of being exclusive to Belgium, Draps began the international GODIVA expansion in 1958 by opening a Godiva boutique in Paris on the fashionable Rue St. Honoré. Openings in the United Kingdom, Germany, Italy, and more soon followed.
Then in 1966, Godiva traveled across the pond to the United States, where Godiva became available at one of the country's most elegant department stores, Wanamaker's in Philadelphia. Six years later, the first stateside GODIVA boutique opened on New York's fashionable Fifth Avenue.
Expansion also extended into Asia, where in 1972 Japan's prestigious Nihonbashi Mitsukoshi Department Store in central Tokyo became the first to carry Godiva. In 1998, the first Godiva store in Hong Kong opened in the upscale Sogo department store, followed later by locations in Taiwan and Singapore, and then China in 2009.
In September 2010, Godiva opened its first store in Turkey in the heart of Istanbul. Located in the luxury shopping area of Nisantasi, this beautiful flagship store is a significant achievement in expanding our presence globally and exemplifies a strategic entry into a new market for Godiva.
Most recently, Godiva opened a Café Godiva in London's esteemed Harrod's Department Store. The 40-plus table venue features Godiva's one-of-a-kind chocolate beverages, pastries, and, of course, our chocolates.
Today the GODIVA brand is known – and loved – in over 80 countries around the world. Godiva owns and operates more than 450 boutiques and shops worldwide, where you can find a comprehensive selection of Godiva offerings. Godiva products are also available at finer department and specialty stores. Additionally, Godiva issues seasonal mail-order catalogs in North America and accepts phone and internet orders. From New York to Paris, Tokyo to Dubai, it is GODIVA that brings the best of Belgium to the world.