Meet Our Chefs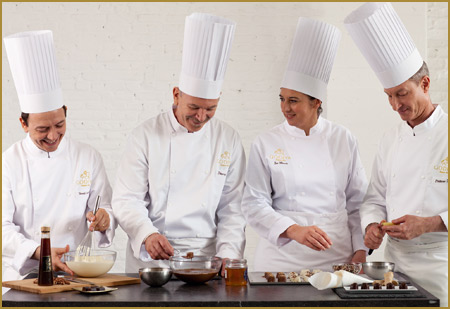 The GODIVA global team of Chefs and Chocolatiers keep the Belgian tradition alive – and delicious. GODIVA Chefs and Chocolatiers are passionate about continuing the vision of our company's founder Joseph Draps. Monsieur Draps believed in creating complex, yet always balanced notes of super-premium chocolates, an ode to the Belgian tradition. Today our global team of Chefs and Chocolatiers has the pleasure of creating extraordinary Belgian chocolates that are available in over 80 countries.
Thierry Muret, Executive Chef Chocolatier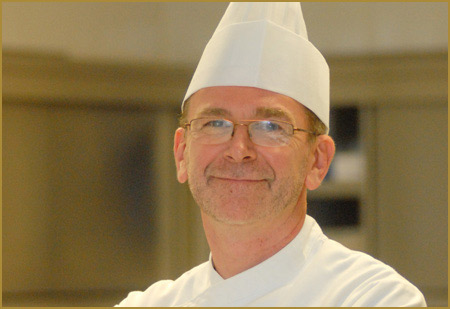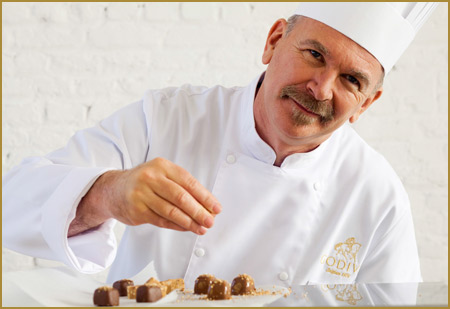 A native Belgian, Chef Thierry studied the art of chocolate, pastries, and confections through an apprenticeship with Master Rene Gossens in Antwerp, Belgium. Chef Thierry credits Gossens for "bringing him into food."

"He opened up the full scope of taste and flavor to me," explains Chef Thierry. "He used to say, 'Taste this strawberry – now explain what those flavors are.' I learned a lot."

After moving to the United States, Chef Thierry opened a chocolate shop with his sister in Chicago called Le Caraque. Five years later, Thierry left the family business and joined GODIVA.

Over the last 23 years, Chef Thierry's chocolate expertise, sophisticated palate, and global vision have been integral to innovation at GODIVA. His background in chemistry and science has proven to be a large asset in understanding the inner workings of ingredients and the complexity of chocolate. Signature truffles, classic chocolates, proprietary caramels, and handcrafted bark are just a few of his many successes that have delighted Godiva customers.

Despite working with chocolate every day, Chef Thierry says it remains his comfort food. "Sometimes at the weekend, when the day is over, I like to sit down in the garden and have a glass of port or red wine with 67 or 72 percent cocoa chocolate," he says. "That to me is comfort. It is nice to view the product you work with every day in another light."
Yannick Chevolleau, Chef Chocolatier Pâtissier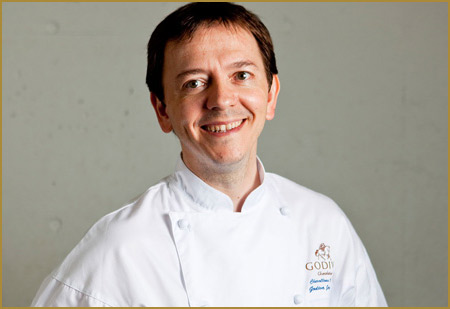 Chef Yannick started his career as a pâtissier in France, working in several Michelin-starred restaurants. When he moved to England, he met his wife, who was visiting England from Japan. "Naturally I followed her back to Japan!" he says. When Chef Yannick first arrived in Japan, he joined a French restaurant called The Georgian Club in Roppongi where everyone else on staff was Japanese. Having lived in Japan for eight years, Chef Yannick says he really enjoys it. So, too, does he love his work at GODIVA. Every morning when I go to work, I feel a sense of fulfillment," he says. "I think that I was born to be a pâtissier, and I love what I do."

"I'm really hungry to know what customers think about our products. I want to develop products that make our customers feel happy and satisfied. I'm always looking for feedback." – Chef Yannick Chevolleau
Philippe Daue, Chef Chocolatier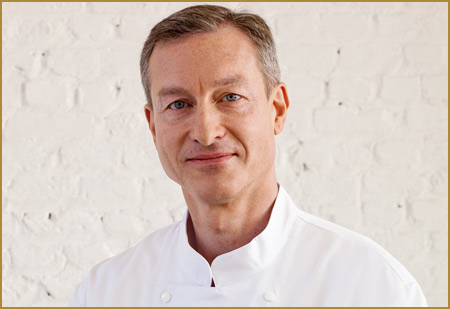 Chef Philippe Daue joined GODIVA as Chef Chocolatier in December, 2012. Born into a family with a tradition of producing quality chefs, Philippe has studied in his native Belgium as well as in Paris and the UK. Before joining GODIVA, Chef Philippe has worked as Executive Pastry Chef in such five-star hotels as the Shangri-La, Mandarin Oriental, and Hilton across Europe and the Pacific Rim.

Chef Philippe is based in Beijing and focuses primarily on the development of new chocolate and pastry products for China and Pacific Rim markets. "We have to keep in mind that creating desserts is about giving: giving joy, giving comfort, giving pleasure," he says. "Creating desserts is a noble art." Chef Philippe is full of culinary passion and creativity, and is working closely with the team of GODIVA chefs around the world to assist elevating the brand into a new height.
Wilmots Ilse, Chef Chocolatier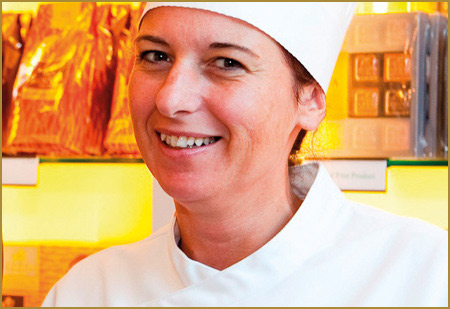 After studying at the Coovi-Ceria school in Anderlecht, Chef Ilse worked as Chocolatier in a pastry shop and then as Chocolatier at Valentino. In 1991, she joined GODIVA and eventually found her way onto the Research & Development team.

"Together with our American colleagues we create and develop the finest, most delicious, delightful, and wonderful chocolates," she says proudly.