Chocolate Blood Orange Frozen Pops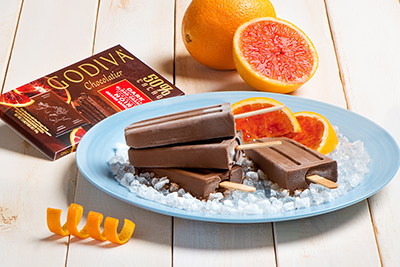 Create a citrus-y and refreshing summer treat with our recipe for Chocolate Blood Orange Frozen Pops, using our new Dark Chocolate Blood Orange bars.
Yield:
10 Frozen Pops


Difficulty: Easy
Preparation: 10 MINUTES PLUS 6 HOURS CHILLING AND FREEZING
Special Equipment: Frozen Pop Mold
Ingredients
4 bars (3.5 oz each) Godiva 50% Dark Chocolate Blood Orange
1 1/2 cups light whipping cream
1 1/4 cups whole milk
1. Finely chop chocolate and place in heatproof bowl. In saucepan, heat cream until steaming (but not boiling); pour over chocolate and whisk until smooth and chocolate is melted. Whisk in milk; refrigerate for 2 hours or until chilled.
2. Pour into 10 (1/3 cup/75 mL) frozen pop molds; tap molds to remove any air bubbles. Place wooden pop stick down along center of each pop.
3. Freeze for 6 hours or until solid and frozen through. (Pops can be made ahead and frozen for up to 24 hours.)