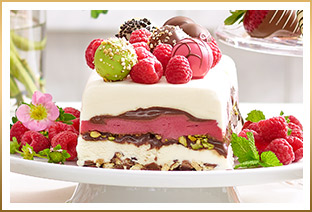 This easy dessert is a show stopper. This recipe is perfect for summer and can easily be adjusted for holiday.
Yields: 12 servings
Difficulty: Easy
Ingredients
3 bars (1.5 ounces each) GODIVA Dark Chocolate Bars, chopped
1 box GODIVA Biscuits , chopped coarsely
1 pint vanilla ice cream
1 cup chopped nuts such as salted toasted almonds or pistachios
1/4 cup condensed milk
2 tsp almond extract
1 pint Raspberry Sorbet
1 GODIVA Truffle flight , optional
1/2 pint fresh raspberries, optional

Directions
1. Melt the chopped chocolate in a heatproof bowl in the microwave (or over a bowl of just simmering water) until melted. Stir in the sweetened condensed milk, almond extract, and 1 tbsp water. Set aside. Place 1 pint of the vanilla ice cream on the counter to soften for about 10 minutes.
2. Line a 9 x 5 x 2 ¾" metal loaf pan with 2 layers of plastic wrap extending 3 inces over the side. Scoop ½ of the ice cream into the pan and spread evenly and quickly. Sprinkle with 1/3 cup chopped nuts and freeze for about 15-20 minutes. Remove the raspberry sorbet fromt eh freezer to soften slightly.
3. Drizzel ½ of the chocolate mixture over the chilled ice cream and nuts. Sprinkle with ½ of the cookies, pressing them gently into the chocolate. Carefully spread the sorbet over the surface, sprinkle with 1/3 cup more nuts and freeze again for 15-20 minutes.
4. Spread the surface with remaining chocolate, and then top off with the remaining vanilla ice cream and sprinkle with the remaining cookies, pressing into the ice cream and create an even surface. Cover over with plastic wrap overhang and top with aluminum foil.
5. Chill at least 4 hours, preferably overnight.
6. Invert the terrine onto a long platter and lift off the plastic wrap. Sprinkle with remaining nuts. For a really special presentation add a flight of your favorite GODIVA truffles on the top along with raspberries and serve.