GODIVA Flourless Chocolate Cake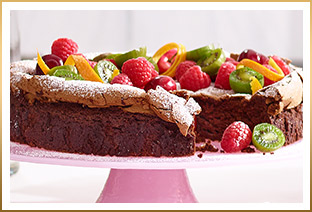 Make your own gourmet flourless chocolate cake with these delectable GODIVA ingredients.
Difficulty: Easy
Ingredients
8 bars (1.5 ounces each) GODIVA Dark Chocolate Bars, chopped
1 ½ cups (3 sticks) unsalted butter, softened
3 cups confectioners' sugar
12 eggs, separated
pinch of salt

Directions
1. Position rack in center of oven and preheat to 350°F. Lightly grease a 10 x 3-inch springform pan.
2. Place chocolate in microwavable bowl. Microwave on HIGH for 1 to 1 ½ minutes or until almost melted. Let stand 1 minute and stir until smooth.
3. Beat butter and 2 cups confectioners' sugar with mixer at high speed for about 3 minutes or until light and fluffy. Add egg yolks, one at a time, beating well after each addition.
4. Beat egg whites and salt with mixer at medium speed in a dry, clean bowl until frothy. Gradually add remained confectioners' sugar. Increase speed to high and beat until stiff peaks form.
5. Fold melted chocolate into butter mixture. Gently fold egg whites into chocolate-butter mixture. Do not overmix 9the mixture should have a few streaks of whites in it). Pour batter into springform pan. Bake for 45 minutes, or until a toothpick inserted in a center has a few moist crumbs clinging to it. Be careful not to overbake or cake will be dry. Cool completely in a pan on a wire rack. Upon cooking, the center of the cake will sink.
6. Serve cake with fruit on top for a refreshing and sweet dessert.