SHIPPING COSTS & HOW FAR IN ADVANCE SHOULD I ORDER?
Personalized favors must be ordered at least 2 weeks prior to shipping. Orders can be placed in advance for up to one-year from the order placement date.Standard Shipping rates and below; for scheduled delivery on an exact date, a surcharge of $12-15 may be selected at Checkout.
| | |
| --- | --- |
| Merchandise Total | Standard Shipping |
| $250-$499.99 | $22.95 |
| $500-$599.99 | $23.99 |
| $600 and over | 6% of net merchandise |
WHAT RIBBON OPTIONS ARE AVAILABLE?
The imprint will be on the ribbon ends, or "tails" of the ribbon. Each tail is limited to 19 characters, including spaces. The ribbon measures 3/8"-wide and is available in six colors: gold, black, white, light orchid, light blue and light pink. Only the gold ribbon will be imprinted with black ink. All other ribbon will be imprinted with gold ink. Font type is closely approximate to actual font type and may vary from that shown in the preview. The below image depicts the actual font used.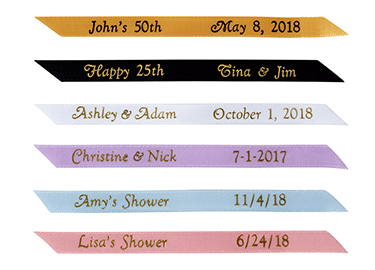 WHAT ARE THE QUANTITY REQUIREMENTS FOR ORDERS?
Minimum quantity for each product is 20 units, Maximum is 200 units. If you are interested in ordering more than 200 units, please contact Customer Service at 1-800-946-3482 (800-9-GODIVA). Your credit card will be charged when the order ships.
HOW SHOULD I STORE MY FAVORS FOR A FUTURE EVENT?
Godiva Chocolates will maintain freshness after opening if stored at temperatures that do not exceed 65°F (18°C). Avoid heat, humidity, and direct sunlight. Upon receipt of your order, please verify it and then store in a cool, dry place. .For freshness of unopened products refer to the Best By Dating printed on many of our products. To store chocolate for up to two months, place package in two plastic bags, close tightly and refrigerate. To store chocolate for up to six months, place package in two plastic bags, close tightly and freeze If you have any questions, please call Customer Service at 1-800-946-3482 (800-9-GODIVA)
CAN I CANCEL OR CHANGE MY ORDER AFTER IT IS PLACED?
Personalized ribbon orders cannot be cancelled, changed or returned. Upon request, we can provide a proof for your approval prior to placing your order. Please call Customer Service for this option at 800-946-3482 (800-9-GODIVA). Please review your order carefully for accuracy prior to submitting.
DO YOU OFFER VOLUME DISCOUNTS?
Yes - the more you shop, the more you save. Place an order of $200 or more and get a discount of 15%. Discounts are calculated on merchandise total, before shipping and/or tax.